Charlotte Black/African-American Heritage Tour and Pilgrimage
Details

Hits: 56877
"LET THE HEALING CONTINUE&quot™
at the
18th Annual QCT Charlotte Pilgrimage Tour™
February (Black History Month) and [NEW] June (Juneteenth) 2016!

Since 1998!

Now Available Year Round For Groups of Five or More!

Open to ALL!

In 1998 the Interfaith Pilgrimage made its way into Charlotte. The group consisted of the young and the old from various ethnic and religious backgrounds. They were recreating the &quotMiddle Passage&quot Slave trade routes from Europe, Africa, South America and the United States. Their goal was to locate sites that were part of the Slave trade and to pray for racial healing and atonement for the past institution of Slavery which occurred regardless of the weather in Charlotte NC, and the rest of the south.

In Memory of Pastor Jeff Lowrance! and Dr. Reginald Armistice Hawkins.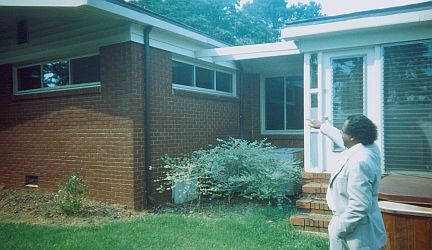 While in Charlotte the Pilgrims took our Charlotte Black/African-American Heritage Tour™. On our tour route they visited three existing Slave cemeteries and a former Slave church. Each year since then we have recreated this 3-hour tour and invited the public to attend. Over the years, with help from the media, we have inspired many of the caretakers in charge of these sites to clean up and recognize the contributions of those Slaves with honor and dignity.



| 1997 | 2002 | 2003 | 2004 | 2007 | 2008 |

Click for Video
[Desktop Only]



CO-SPONSOR THIS EVENT!

In addition, help us donate additional funds to area college students who are either majoring in or plan to major in African-American Studies.
Get FREE Exposure for your Business/Organization During February -- Black History Month, and June -- Juneteenth!

Note: Members of Friendship Missionary Baptist Church enjoying their Charlotte Pilgrimage Tour™!



Pil-grim-age n. 1. A journey to a shrine or sacred place. 2. An extended journey with a purpose. -- Webster's Dictionary
SITES!
Also Check Out Charlotte's &quotOriginal&quot
Daily Black/African-American Heritage Tour™


And/or Charlotte's &quotOriginal&quot
Women′s History and Heritage Tour™










Note: Click here for other individual adventure options!


Copyright Queen City Tours® and Travel